Full info: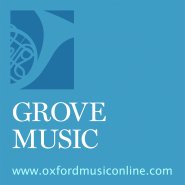 Oxford Music Online covers the whole history of music and its genres up to present day, it contains more than 80,000 articles, images, musical notations and music samples, more than 20,000 biographies of composers, interprets and writers whose works have been set to music.
It offers full text search of articles in the following resources:
Grove Music Online

(The New Grove Dictionary of Music and Musicians, The New Grove Dictionary of Opera

and

The New Grove Dictionary of Jazz)

. Nearly 60,000 terms, of which 30,000 biographies, more than 20,000 subject headings and more than 5,000 images.

The Oxford Dictionary of Music

- collection of nearly 12,000 subject words have been compiled by internationally renowned specialists in all areas of music. The articles deal with opera, ballet, orchestras, music groups or concert halls. This encyclopedia also deals with ancient music and non-traditional instruments used at that time.

The Oxford Companion to Music

- this large publication maps the musical styles from the Middle Ages to present day. Nearly 8,000 articles deal with composers, performers, writings, instruments and musical notations make this resource unique in this field.
The database can be used by only three concurrent users.
You can see a sample of uses here.
---
Additional link for access