Tools to retrieve full texts
Full Text Finder
The Full Text Finder links to the full text of the record in search results, when the text is available, for example, in some other subscribed full-text database. It is integrated with the EBSCO Discovery Service, but is also available in other resources – Web of Science, PubMed, etc. In these sources, the possibility of searching the full text using Full Text Finder is indicated by the icons

,

or links Full text Finder, Search Library /access option from Palacký University, Olomouc, etc.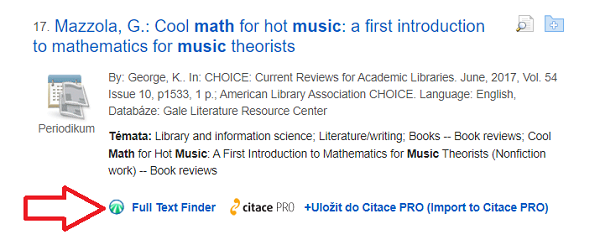 EndNote Click
EndNote Click is a free web browser plugin from Clarivate primarily designed for Web of Science. For searched records, it offers the full text of the article (PDF) from freely available sources as well as from university subscribed databases. After initially downloading the plugin and registering with an email address (university email address is not required), EndNote Click is activated automatically on each search.
Example of a record with full text via EndNote Click: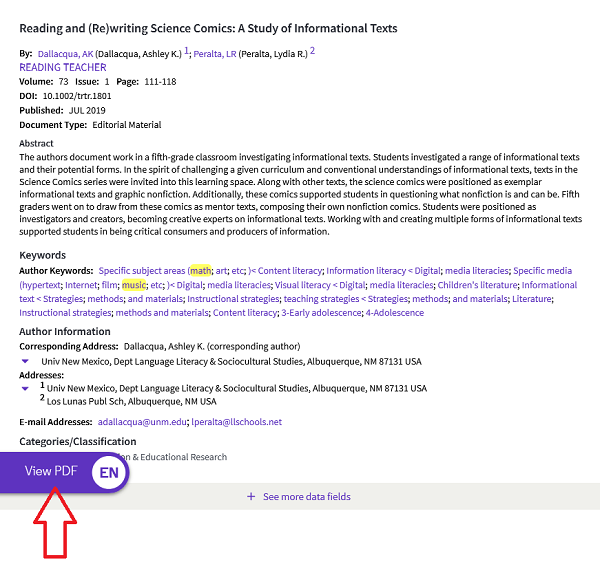 EndNote Click also provides a quick search directly to Web of Science, Google Scholar or PubMed, and allows exports to reference managers such as EndNote, Zotero or Mendeley. These functions can be selected in Setting – Customize. Details of EndNote Click can be found on the Clarivate support site, and a basic overview is given in this article.